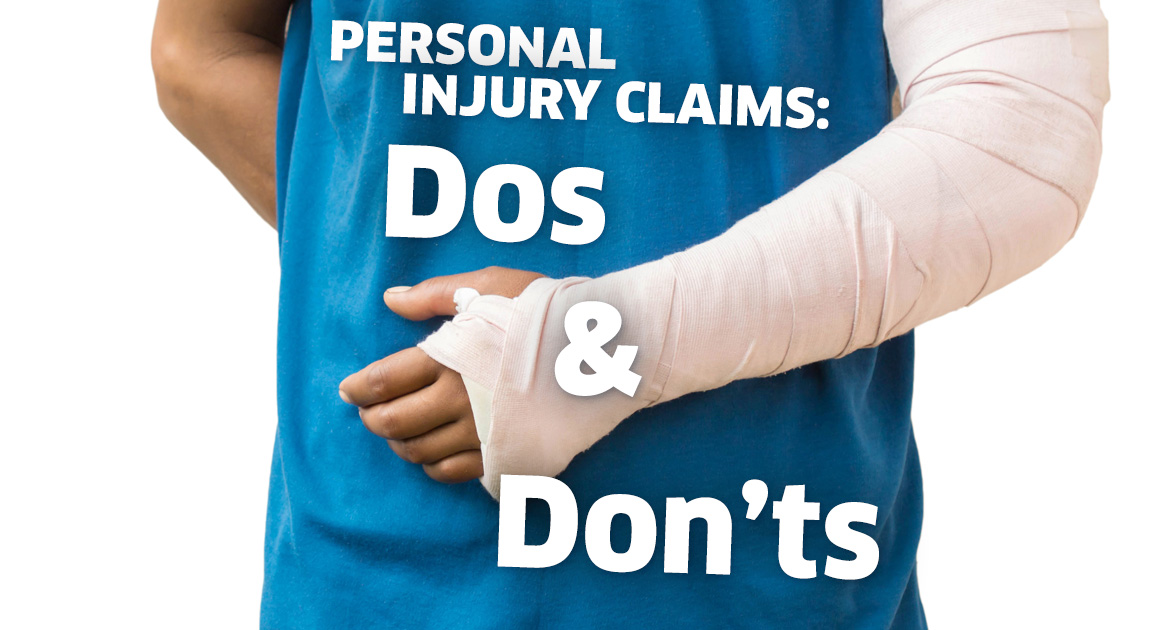 Sustaining a personal injury becomes more than just the injury; it becomes a personal injury claim that if not handled correctly, may just add more insult to the injury. The information provided below is an introduction to the basic principles of personal injury claims dos and don'ts.
Personal Injury Claims Do's
Medical Treatment:   Your health and well-being are the number one priority with any type of personal injury.  Acute medical care should be accessed as soon as possible following an injury to provide treatment and prevent further damages.
File Police Report:  File a police report promptly following a motor vehicle accident, pedestrian related accident or any other type of accident.  Collect as much information as possible from the people involved, including witness contact information, photographs, and videos.  The police report along with all supplementary documentation will help to strengthen your case.
Consultation: Seek consultation with a personal injury lawyer.  Generally, consultations are free and will provide answers to any questions you may have.  Most personal injury lawyers work on a contingency basis meaning they only receive payment if your case is won.
Organize: A successful personal injury claim is an organized personal injury claim.  Request detailed medical reports, police reports, bills, receipts, etc., and organize them in category specific files.  Any or all documentation needs to be readily accessible and in chronological order upon request.
Personal Injury Don'ts 
Consultation:  Don't pass up a free consultation with an experienced personal injury lawyer.  A personal injury lawyer's working knowledge in both state and federal laws may be the answer to receiving a larger settlement.
Insurance Companies:  Regardless of the friendliness of the insurance adjuster over the phone, they do not have your best interest in mind.  If you are speaking to an insurance adjuster without legal representation, it may be worth having an audio recording of your phone call as your statement can easily be manipulated to benefit the insurance company.
Social Media:  Don't post, tweet, hashtag or share anything that is personal, private or related to specific details of an accident or injury.  If your case does go to trial, all information posted on social media can and will be used against you.  Be socially responsible.
The Statute of Limitations:  Every state's personal injury laws, as well as Statute of Limitations, are different.  Despite your injury, failing to file a claim within your state's Statute of Limitations (deadline) may mean that you are left with nothing.
The above information is an introduction to the many personal injury claims dos and don'ts that arise with an injury and claim.  If you are looking for an experienced personal injury lawyer in Kansas or Missouri, consider Reginald Keith Davis, Attorney at Law, dependability you can trust.